Who We Are
We are runners to our core. Collectively our team has run hundreds of races from marathons on the road to fast miles around the track. It's from these years of racing we draw our passion to create and produce memorable experiences for all levels of runners to enjoy. Whether you are running a blazing fast new half marathon PR or you are completing your very first 5K, we are committed to making that memory one you will always carry with you.
Our Mission
San Diego Running Co. is an experience company dedicated to bringing the community together through unique, memorable events that tell a story and empower people to get out and enjoy new experiences.
Our Core Functions
Permitting
Start/Finish Line Management
Vendor Management
Volunteer Management
Registration/Customer Service
Course Management
Participant Good Procurement
Professional Staffing
Our Values
We create only the highest quality experiences
At San Diego Running Co., the details matter. Across every event we touch, we want to ensure every detail is of the utmost quality. We strive to exceed our own expectations as well as those of each and every participant. And we want our event attendees, partners, and sponsors to come back to the next event for more.
We are in a constant state of innovation
An event can just be another event. But what truly sets an experience apart from the rest is an experience that is unique and memorable. San Diego Running Co.'s creative process demands an innovative spin to your everyday experiences. We want our events to tell a story. We strive to create events to be the can't-miss events of the year.
We are fun
At entry level, we want our events to be fun. Whether it's a "fun run" or an Olympic qualifier, we want every participant to enjoy their experience and to walk away with a smile on their face. There's a time and place for serious competition, but there's also a time and place for beer gardens and finisher medals.
We bring the community together
Community is core to everything we do. We're members of this community, and we strive to be actively involved. Our experiences bring people together and empower our participants to come out and try something new. Even at the partnership level, we work with partners big and small to ensure their events are unique, memorable, and successful, regardless of whether or not we manage them.
Meet The Team
Pete Hess
President & Co-Founder
Eric Marenburg
Chief Running Officer & Co-Founder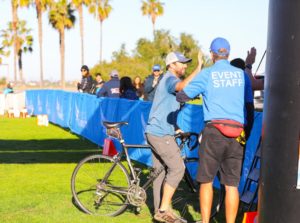 Services We Offer
From full event production to day of equipment rentals, San Diego Running Co. has you covered to make your event stand out from the crowd. Learn more about all the unique ways we can help elevate your racing experience.
Event Management Questionnaire
Looking to host your next event? Take a few minutes and fill out our event management questionnaire and a San Diego Running Co. representative will get back to you right away!
Inquire Today
Get in Touch Today
Contact us today to learn more about how we can help make your event happen!
Contact Us